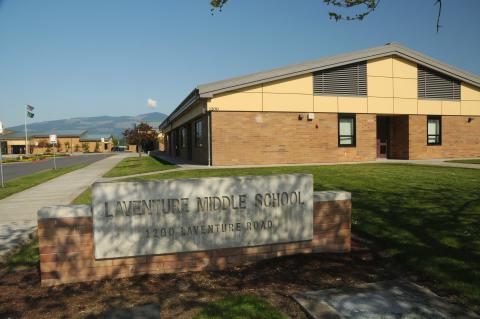 Parent Communication re: Lockdowns and Swatting

LaVenture Families,

We only seem to communicate about school lockdowns and school shootings after an incident has occurred somewhere and is all over the news.  At those times, parents rightly want to know what schools are doing to keep their children safe.  Recently, there has been a rash of what is being referred to as "swatting," in which a caller makes a false claim of a shooting in progress at a school.  It is important for us to be prepared and to regularly review and practice our responses in similar situations.  

All schools, including LaVenture, hold emergency drills every month.  In addition to fire drills and earthquake drills, we occasionally practice two different kinds of lockdown drills:
The working lockdown is for situations where there is police activity or some other situation in the area of the school, but the threat is not on our campus.  In a working lockdown, students and teachers continue business as usual, but we keep students in buildings and do not allow them to move between buildings.

The emergency lockdown is used when the threat is on our campus. In the case of an emergency lockdown we ask all students and adults to close windows and blinds, lock and barricade classroom doors, remain quiet and find the safest place to hide, while we await the arrival of the Mount Vernon Police Department.  
If we have an actual situation that requires an emergency lockdown, here are some things you should know:
We will stay in lockdown as long as there is a threat.  

While our first priority is to provide for the safety of our students, we will notify parents as soon as we can safely do so.  That notification will be by way of the REMIND app.

We ask your assistance in two areas during a lockdown event, as difficult as they may be:

Please do not call or text your students.  It is important that emergency responders and school officials have the ability to communicate by phone, and there have been times when cell phone usage has been so heavy in similar situations that people on the scene were unable to make the calls they needed.

Please do not come to the school during the event.  We will not be able to communicate with you, and it is possible that your presence here couldhinder the actions of emergency personnel.

Before we come out of the lockdown, we will work with the MVPD to make sure the building is safe and secure first.  
Our administration and security team convenes regularly to review and practice our emergency procedures and to ensure that we are prepared to keep our campus safe.  We value and welcome family input related to our practices.  Please reach out to me if you have any questions, ideas or concerns regarding campus safety. 
Sincerely, 
Principal David Riddle 
------------------------------------------------------------------------------------------------
Comunicación para padres respecto al: encierro de escuela y "swatting"
Familias de LaVenture,
Parece que solo nos comunicamos sobre los encierros escolares y tiroteos escolares después de que un incidente ha ocurrido en algún lugar y está en todas las noticias. En esos momentos, los padres justamente quieren saber qué es lo que las escuelas están haciendo para mantener a los niños a salvo. Recientemente ha ocurrido una serie de eventos referidos como "swatting", es lo que se refiere a hacer llamadas dando información falsa sobre tiroteos que están ocurriendo en las escuelas. Es importante para nosotros estar preparados y regularmente revisar y practicar nuestras respuestas a situaciones similares. 
Todas las escuelas, incluyendo LaVenture, tienen prácticas de emergencia todos los meses. Además de prácticas sobre incendios y terremotos, ocasionalmente practicamos dos tipos de encierre de escuela:  
El encierre de escuela durante el trabajo es para situaciones cuando hay actividad policiaca u otra situación en el área de la escuela, pero el peligro no está en el campus escolar. En un encierre de escuela durante el trabajo, los estudiantes y maestros continúan con su día usual pero mantienen a los niños en el edificio y no permiten que se muevan de un edificio a otro.  

El encierre de escuela de emergencia es usado cuando el peligro está en el campus escolar. En el caso de un encierre de escuela de emergencia le pedimos a los estudiantes y adultos que cierren las ventanas y persianas, aseguren y bloqueen las puertas, se mantengan callados y encuentren un lugar seguro para esconderse, mientras esperamos que llegue el departamento de policía de Mount Vernon.  
Si tenemos una verdadera situación que requiere un encierro de emergencia, aquí hay algunas cosas que debería saber:
Nos mantendremos en encierro de escuela mientras haya una amenaza.  

Mientras nuestra prioridad es la seguridad de nuestros estudiantes, notificaremos a los padres lo más pronto que se pueda y sea seguro. La notificación será a través de la aplicación de REMIND.

Pedimos de su ayuda en dos cosas durante un encierro de escuela de emergencia, aun siendo difíciles:

Por favor de no llamar o mensajear a su estudiante. Es importante que los equipos de emergencia y oficiales escolares tengan la habilidad de comunicarse por teléfono y ha habido veces en las que el uso en exceso de celular en ocasiones similares las personas que están en la escena no pueden hacer las llamadas necesarias.

Por favor de no presentarse durante ese evento. No podremos comunicarnos con usted y es posible que su presencia pueda impedir las actividades del personal de emergencia. 

Antes de que salgamos del encierro de escuela, trabajaremos con MVPD para asegurarnos que el edificio esté seguro y protegido. 
Nuestra administración y el equipo de seguridad se reúne regularmente para revisar y practicar nuestros procedimientos de emergencia y asegurarnos que estamos preparados para mantener nuestra escuela segura. Valoramos y agradecemos sus opiniones relacionadas sobre nuestras prácticas. Por favor de contactarme si tiene preguntas, ideas o inquietudes respecto a la seguridad de nuestra escuela. 

Sinceramente,

Director David Riddle 
-----------------------------------------------------------------------------------------------
Беседа с родителями по поводу локдауна и "своттинга"  
Семьи школы LaVenture,
Похоже, что мы говорим о локдауне и стрельбе в школах только после того, как где-то произошел инцидент и это уже освятили новости.  Поэтому родители хотят знать, что делают школы для обеспечения безопасности своих детей.  В последнее время участились случаи так называемого "своттинга", когда звонящий делает ложное заявление о готовящейся стрельбе в школе.  Важно, чтобы мы были готовы и регулярно проверяли и отрабатывали наши действия в подобных ситуациях. 
Во всех школах, включая LaVenture, каждый месяц проводятся учения на случай чрезвычайных ситуаций.  В дополнение к пожарным учениям и учениям по землетрясениям мы иногда проводим два различных вида учений по локдаун:
Рабочий локдаун предназначен для ситуаций, когда в районе школы действует полиция или возникает какая-то другая ситуация, но угроза исходит не от нашего кампуса.  При рабочем локдауне ученики и учителя продолжают работать в обычном режиме, но мы удерживаем учеников в зданиях и не разрешаем им перемещаться между зданиями

Экстренный локдаун используется, когда угроза находится на территории нашего кампуса. В этом случае мы просим всех учащихся и взрослых закрыть окна и жалюзи, запереть и забаррикадировать двери классов, соблюдать тишину и найти наиболее безопасное место, где можно спрятаться, пока мы ожидаем прибытия полицейского департамента Маунт-Вернон. 
Если возникнет ситуация, требующая экстренного локдауна, вот некоторые вещи, которые вы должны знать:
Мы будем находиться в закрытом помещении до тех пор, пока существует угроза. 

Нашей первоочередной задачей является обеспечение безопасности наших учеников, поэтому мы уведомим родителей, как только сможем сделать это безопасно.  Это уведомление будет сделано через приложение REMIND.

Мы просим вас оказать помощь в двух вопросах во время локдауна, какими бы трудными они для вас ни были: 

Пожалуйста, не звоните и не пишите своим ученикам.  Важно, чтобы у спасателей и школьных работников была возможность связаться по телефону.  Иногда бывали случаи, когда в подобных ситуациях мобильные телефоны использовались настолько активно, что люди на месте происшествия не могли сделать необходимые звонки.

Пожалуйста, не приходите в школу во время локдауна.  Мы не сможем с вами связаться, и возможно, что ваше присутствие здесь может помешать действиям персонала службы спасения.

Прежде чем мы выйдем из локдауна, мы будем работать с MVPD, чтобы убедиться, что внутри и снаружи здания безопасно и надежно.
Наша администрация и служба безопасности регулярно встречаются, чтобы проанализировать и отработать наши действия на случай чрезвычайных ситуаций и убедиться, что мы готовы обеспечить безопасность нашего кампуса.  Мы ценим вклад вашей семьи в наши планы и действия. Пожалуйста, свяжитесь со мной, если у вас есть какие-либо вопросы, идеи или опасения относительно безопасности кампуса.
Искренне,
Директор школы Дэвид Риддл